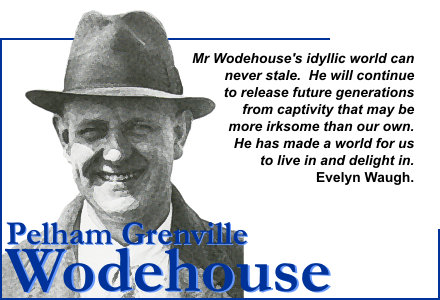 Pelham Grenville Wodehouse was born in 1881 in Guildford, the son of a civil servant, and educated at Dulwich College. After working for the Hong Kong and Shanghai Bank for two years, he left to earn his living as a journalist and storywriter, writing the 'By the Way' column in the old Globe. He also contributed a series of school stories to a magazine for boys, the Captain, in one of which Psmith made his first appearance. Going to America before the First World War, he sold a serial to the Saturday Evening Post, and for the next twenty-five years almost all his books appeared first in this magazine. He was part-author and writer of the lyrics of musical comedies, including Kissing Time
An enormously popular and prolific writer, he produced about 100 books. In Jeeves, the ever resourceful 'gentleman's personal gentleman', and the good-hearted young blunderer Bertie Wooster, he created two of the best-known and best-loved characters in twentieth century literature. Their exploits, first collected in Carry On, Jeeves, were chronicled in fourteen books, and have been repeatedly adapted for television, radio and the stage. Wodehouse also created many other comic figures, notably Lord Emsworth, the Hon. Galahad Threepwood, Psmith and the numerous members of the Drones Club. He was part-author and writer of fifteen straight plays and 250 lyrics for some 30 musical comedies. The Times hailed him as a 'comic genius recognized in his lifetime as a classic and an old master of farce'.
P. G. Wodehouse said, 'I believe there are two ways of writing novels. One is mine, making a sort of musical comedy without music and ignoring real life altogether; the other is going right deep down into life and not caring a damn Е '
Wodehouse married in 1914 and took American citizenship in 1955. He was created a Knight of the British Empire in the 1975 New Year's Honours List. In a BBC interview he said that he had no ambitions left now that he had been knighted and there was a waxwork of him in Madame Tussaud's. He died on St Valentine's Day, 1975, at the age of ninety-three.
Welcome to the Russian Wodehouse Society – 27 Years Online!

The Russian Wodehouse Society is a club with free membership. We are interested in promoting the works of Pelham Grenville Wodehouse. We popularize the works of Wodehouse among a Russian-speaking audience, gathering together translators, publishers, and fans who are interested in the spread of Wodehouse's works and ideals.
We host meetings both online and in person, and welcome you to join us!
Old Home Week in Moscow 10-16 August 2008