PG Wodehouse commemorated with Westminster Abbey plaque
Archie Hall
Admirers of 'Jeeves and Wooster' author hope it will complete writer's rehabilitation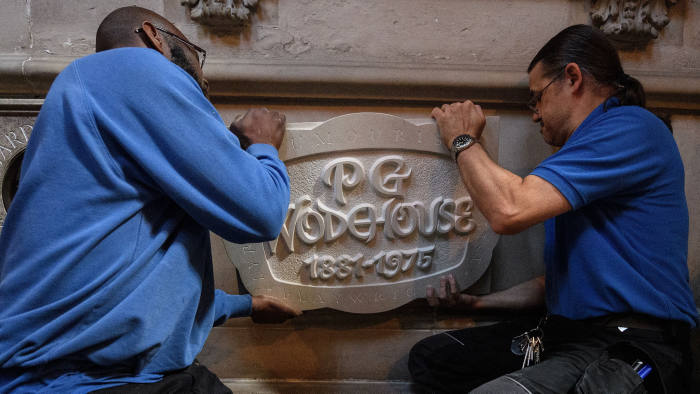 Two men mount a memorial stone to English author Sir Pelham Grenville Wodehouse, commonly known as PG Wodehouse, on a wall in Westminster Abbey on September 18, 2019 in London, England.
Nestled above playwright Nožl Coward and to the right of broadcaster Richard Dimbleby, a memorial plaque to author and humorist PG Wodehouse was dedicated in London's Westminster Abbey on Friday.
Wodehouse admirers hope that the commemoration, only the fifth of its kind for an author in the last decade in the church where Britain's monarchs are crowned, will complete his rehabilitation after controversy over broadcasts he made while detained in Nazi Germany clouded his later life.
Compulsively prolific, 99 of Wodehouse's novels and short story collections are still in print. He also wrote 15 film scripts, and 42 plays in his seven-decade career. He remains best known for books that lightly lampoon the English ruling classes, with a cast of characters that ranges from the doddery Earl of Emsworth and his prize pig, the Empress of Blandings, to the hapless Bertie Wooster and his canny valet Jeeves.
The Rev John Hall, the dean of Westminster Abbey, said: "He has a deep literary sense but also a lightness of touch, a precious, rare gift." He called the decision to award Wodehouse the honour of a plaque in the church "a no-brainer, really".
Hilary Bruce, chairman of the PG Wodehouse Society, said the author would be astonished and delighted at the honour. Mr Hall credited a "very thorough" letter from the Wodehouse Society for allaying any possible concerns about his wartime conduct.
Living in France at the outbreak of the second world war, Wodehouse was captured and interned by the Nazis. While in Germany, he wrote five humorous radio broadcasts, directed to fans in the then-neutral US, who had not heard anything of him since his capture.
The broadcasts were greeted with outrage in Britain for their relatively light and upbeat treatment of his life as a prisoner of war; critics said they risked hindering efforts to bring the US into the war.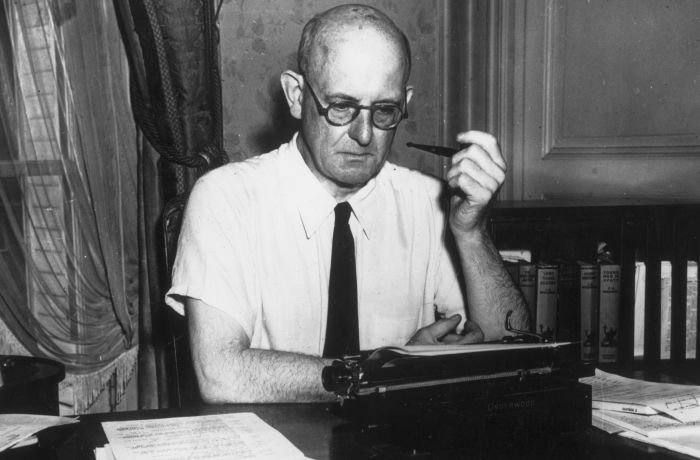 PG Wodehouse writing at his home in Paris in September 1945 © Central Press/Getty Images
Though he was cleared of wrongdoing by MI5, the domestic intelligence service, and defended by literary heavyweights such as Evelyn Waugh and George Orwell, Wodehouse never returned to Britain. He only received a long-blocked knighthood six weeks before his death in 1975.
Soon after the broadcasts, Wodehouse wrote: "Of course I ought to have had the sense to see that it was a loony thing to do to use the German radio for even the most harmless stuff, but I didn't. I suppose prison life saps the intellect."
Broadcaster Gyles Brandreth said Wodehouse "undoubtedly gave comfort to the enemy at the darkest days for the UK", but added: "A church is the place for forgiveness and reconciliation, so being remembered in the abbey is entirely appropriate."
His memorial is in the south quire aisle of the abbey. A commemoration in the church is one of the highest honours for cultural figures in the UK. Physicist Stephen Hawking's ashes were interred there last year, and poet Philip Larkin received a floor stone in 2016.
Wodehouse biographer Paul Kent described the memorial as "the biggest thing to happen to the Wodehouse world for a number of years". "A lot of people in the past have written Wodehouse off as a minor stylist," he said. "He's not just a funny guy, he's a highly accomplished writer."
Writer and comedian Stephen Fry concurred: "Wodehouse's unique blend of sunny benevolence and blissful prose genius is a blend our world has never needed more."
Asked whether there was any resonance between Wodehouse's farcical view of upper-class British society and today's politics, Ms Bruce laughed. "That's a very cruel question," she said. "People have made comparisons but I wouldn't care to speculate."