Russians are going wild for P G Wodehouse
Adrian Blomfield
An expression of dreamy euphoria crossed the face of Sir Watkyn Bassett, collector of antique silver and nemesis of the hapless Bertie Wooster.
On the stage of Moscow's Cleopatra restaurant, a bearded Honky Tonk band was playing Irving Berlin. Nearby a group of girls in their evening finery debated which of Bertie's aunts was the most detestable.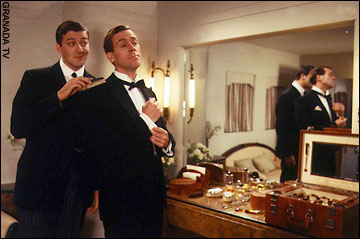 What Ho, Moscow: Jeeves and Wooster have
proved more appealing than Communism
The decor may have been decidedly New Russian and the food served by the waiters khachapuri - a sort of Georgian pizza - rather than Dover Sole. But for Sir Watkyn, alias Mikhail Kuzmenko, it was as though the restaurant had been transformed into the dining hall of Blandings Castle or the Drones Club.
Outlawed by Stalin in 1929, P G Wodehouse - or Pyelem G Vudhaus as he is known - has undergone a remarkable revival since the ban on his books was lifted in 1990.
There can be few fans as dedicated, however, as Mr Kuzmenko.
advertisementAs president and founder of the Russian Wodehouse Society he has attracted over 3,000 members, some from as far away as Cheliabinsk and Omsk, thousands of miles to the east. His monthly Wodehouse dinners at the Cleopatra and elsewhere are always sold out.
The actors Stephen Fry and Hugh Laurie have played their part. Ever since their acclaimed television portrayal of Jeeves and Wooster was dubbed into Russian, young fans have started flocking to the club.
Wodehouse translations have mushroomed and even a souring of Anglo-Russian relations has done little to dim the enthusiasm for this quintessentially English author.
"If you look around on the metro you can see lots of people reading Wodehouse," said Tatyana Komoryeva, a 25-year-old accountant. "All the bookshops, even the small ones, are guaranteed to sell at least some of his books."
That there is a Wodehouse fellowship at all, though, is largely thanks to Natalya Trauberg. A self-taught English speaker, the 79-year-old former dissident risked transportation to the gulags under Stalin for translating the theological works of C S Lewis and G K Chesterton in samizdat.
Although she came across an English copy of Damsel in Distress in 1946 (only Russian translations were banned), Mrs Trauberg was too frightened to attempt a translation until 1989. Her first attempt, the Blandings short story Birth of a Salesman, was also produced in samizdat - not for political reasons but because publishers doubted that there would be any public interest.
"From 1929 to 1990 very few, if any, Russians knew anything of Wodehouse," she said. "It was a big gamble." As the popularity of the books spread and the publishers changed their mind, a forerunner of the Russian Wodehouse Society was formed, with each member taking their name from a Wodehouse character.
Mrs Trauberg became the Princess of Matchingham, the scheming Sir Gregory Parsloe-Parsloe's pig.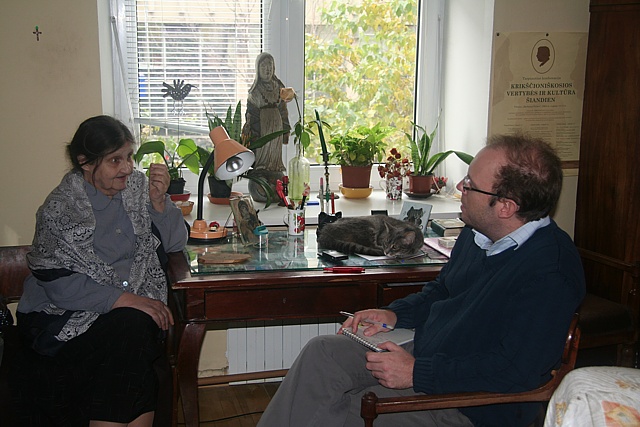 It might seem odd that Russians find such an affinity with tales of young upper-class twits stealing policemen's helmets and elderly upper-class twits stealing each other's pigs. After all, Wodehouse - who died in 1975 - only really touches on matters Russian in The Clicking of Cuthbert when a Soviet author recounts how an assassination attempt caused Lenin to miss a two-inch putt whilst playing golf with Trotsky.
For Mrs Trauberg, however, Russia's love affair with the author is far from surprising. As decades of repression has given way to a new era of cut-throat commercialism, Wodehouse represents a madcap innocence that many Russians yearn to emulate.
"Russians need freedom and laughter very much," she said. "They had none for so long. Wodehouse encapsulates this spirit of freedom.
"He also saves souls. His books are all about innocence and joy and purity.
"The reader is lifted into an English paradise, which many Russians believe is the best paradise of all."