Mystery of Wodehouse castle 'solved' at last
Graham Tibbetts
For decades fans of PG Wodehouse have tramped round rural England in search of their holy grail - the location of the mythical Blandings Castle.
Following a trail of subtle clues left by the author, the pilgrims have attempted to pinpoint the country seat of Lord Emsworth, his eccentric family and his prize pig, the Empress of Blandings.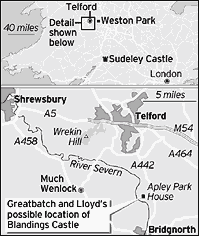 But their hunt may now be at an end after two geographers claimed yesterday to have solved the enduring mystery using the latest computer mapping technology.
Ian Greatbatch and Daryl Lloyd, both PhD students at University College London, have identified 19th century Apley Park House near Bridgnorth, Shropshire as Wodehouse's inspiration.
"I am dead chuffed. It looks almost exactly as I would have imagined it," said Mr Lloyd, 25. "It's uncanny that an objective approach should have come up with a castle that looks so right."
Their mission began last year when the two Wodehouse buffs decided to turn their geographical skills to a longstanding problem.
"I was reading Sunset At Blandings, which had an appendix about a previous search for Blandings," said Mr Greatbatch, 30.
"It started off with a conversation in the pub. We thought we could apply what we do to this particular subject."
The 12 Blandings novels and short stories follow the fortunes of Lord Emsworth, his son, brother, 10 sisters and the empress during the pre-war years.
Through them Wodehouse weaves teasing references to the possible location of the fictional country retreat.
They reveal that the estate is in Shropshire; has a view of the Wrekin hill; is 45 minutes drive from Shrewsbury, 'not hurrying'; has the Severn near or within its grounds; is 2.5 to three miles from the notional village of Market Blandings, which in turn is three hours 41 minutes by train from Paddington and has a drive three quarters of a mile long from the main road, a boating lake and water meadows.
Mr Lloyd and Mr Greatbatch fed the information into Geographical Information Systems (GIS) - a technique more commonly used to identify suitable sites for new supermarkets.
Drawing on a series of computer-based maps, it enabled the geographers to cross reference the various clues until they came up with a location that they are "98 per cent" confident is correct.
Apley Park House, whose battlements echo those of Blandings, was built in 1811.
A family home until 1962, it then became a private school for 25 years.
Although the building fell into disrepair its tower has been restored and is now inhabited once more.
Intriguingly, another Wodehouse enthusiast, Norman Murphy, who had previously visited 20 possible Blandings, had singled out Apley as a likely candidate.
However, he eventually plumped for Sudeley in Gloucestershire as the castle and Weston Park, east of Telford, as the estate.
"Wodehouse based his novels on places he visited as a child and he is known to have called in at Apley House Park, so it must be part of Blandings," said Mr Greatbatch.
The pair delivered their findings at the Royal Geographical Society's annual conference in Kensington yesterday.
Mr Murphy, a former president of the PG Wodehouse Society, remains to be convinced, however.
"I think it's rubbish. I doubt if they have walked the ground," said Mr Murphy, 70.
He added: "I am the guy who found it. I just drove round and round Shropshire and I checked Apley and others to the yard.
"Together Weston Park and Sudeley meet all the criteria."