P G Wodehouse fan reveals the real-life Jeeves
Chris Hastings and Beth Jones
A P G Wodehouse enthusiast has revealed the real-life inspiration behind the author's seemingly improbable fictional creations.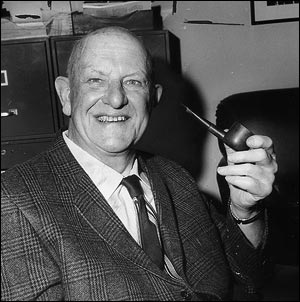 'Wodehouse [above] based all his characters on fact... he just made it funnier' says Norman Murphy
A new study by Norman Murphy sheds light on the origins of such literary legends as Jeeves and Bertie Wooster.
Col Murphy, a recognised expert on Wodehouse, began his researches after uncovering a letter at Sotheby's in 1973, in which the author wrote: "I always try to use a real location if I can".
He found that Lord Emsworth, the woolly-headed peer of the Blandings Castle stories who is devoted to his prize sow, the Empress of Blandings, very closely resembles William Heneage Legge, the 6th Earl of Dartmouth who in the 1920s kept a champion boar.
Col Murphy is convinced that Wodehouse would have met the earl while growing up near his country seat in Shropshire.
"Nowadays we can't believe it, but he was just dramatising stories everyone knew at the time," said Col Murphy.
"They are all based on fact, he just made it funnier. The aristocrats of this country had been going around behaving in an eccentric manner for years."
The character of the scheming Stanley Featherstonhaugh Ukridge, who makes his debut in Love Among the Chickens in 1906, is an amalgamation of three men: Bill Townend, one of the author's oldest friends, Leonard Carrington Craxton and Herbert Wotton Westbrook.
When it came to uncovering the truth about the resourceful valet Jeeves, Col Murphy was initially sceptical about Wodehouse's claim that he was based on his butler, Eugene Robinson.
But his research led him to interview John Millar, a friend of Wodehouse, who recalls a servant indeed called Robinson who possessed all Jeeves's attributes of quick wits and intellect. Mr Millar recalls Wodehouse describing Robinson as "a walking Encyclopaedia Britannica".
Col Murphy believes the Edwardian musical comedy star George Grossmith Junior is the most likely inspiration for Jeeves's hapless master Bertie Wooster.
He has also traced the real-life properties behind some of Wodehouse's most glorious locations.
The Junior Ganymede club, immortalised in the Jeeves stories, was inspired by a pub in Mayfair, now called I Am The Only Running Footman. Sudeley Castle in Gloucestershire is confirmed to have been the inspiration for Blandings Castle.
Tony Ring, a founder member of the Wodehouse society and editor of The Wit and Wisdom of P G Wodehouse, last night welcomed the research.
But he said it was inevitable that there would be mysteries that would never be solved.
"Col Murphy has done an extraordinary job of digging. By the nature of things a tiny handful of his deductions will be erroneous. But I think that what he has come up with is 99 per cent accurate."
* Col Murphy's findings are detailed in the two-volume 'A Wodehouse Handbook'.