BBC News 4 September 2003
Zeroing in on Blandings
Alex Kirby
Two British researchers have invoked the aid of hi-tech software to find the location of one of English literature's most famous buildings.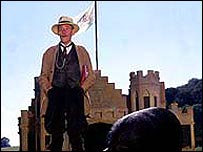 They used geographic information systems (GIS) software to pinpoint Blandings Castle, immortalised by the novelist P G Wodehouse.
Although the castle is entirely fictional, they claim to have proved its definitive location.
They say Blandings lies a few miles from the Shropshire town of Telford.
The pair, Ian Greatbatch and Daryl Lloyd of University College London's Centre for Advanced Spatial Analysis, presented their findings at the annual conference of the Royal Geographical Society and Institute of British Geographers.
The castle is one of the best-known settings dreamt up by Wodehouse, with its eccentric aristocratic owner Lord Emsworth, his ten fearsome sisters and his cherished prize pig, the Empress of Blandings.
Bertie Wooster and his near-omniscient manservant Jeeves are frequent if ill-starred visitors.
There have been several previous attempts to locate the castle, which Wodehouse said was based on real houses he had visited as a child.
Layers of evidence
But earlier researchers relied on literary evidence alone, while Greatbatch and Lloyd used spatial analysis techniques.
They conclude Blandings must be at Apley Park in Hifnal, south-east of Telford.
They say: "Using GIS - a kind of computer-based mapping analysis tool - we can create several map layers, which show whether, based on the stories, Blandings could or could not be there.
"These maps consist of pixels which have a value showing the likelihood of that point being Blandings."
They also analysed Wodehouse's interviews with earlier experts, searched his memoirs, and looked at likely existing buildings in Shropshire.
Reading marathon
But there was more, as Ian Greatbatch told BBC News Online: "Our research involved six arduous months reading every one of Wodehouse's novels", he said.
"Then, using electronic Ordnance Survey maps, we employed something called a viewshed anaylsis - a GIS technique used in landscape planning, for example to make sure a new road won't be seen from a particular point.
"Normally you use it to find places which are not going to be visible from your viewpoint, but we used it the other way round.
"So when Wodehouse says the Wrekin is visible from the castle gardens, we picked out everywhere in Shropshire where you can see the Wrekin.
"He says Blandings is 30 minutes' not very fast drive from Shrewsbury, and that was another of our layers.
"Then he says it's three hours and forty-one minutes by train from Paddington station in London, and that it's near a tributary of the Severn.
"We had tens of layers in the end - then we created a final 'layer of suitability' by superimposing them one on the other to find the castle."
Asked who they had persuaded to fund their research, Mr Greatbatch said: "We're both Ph.D students. We did this in our spare time."